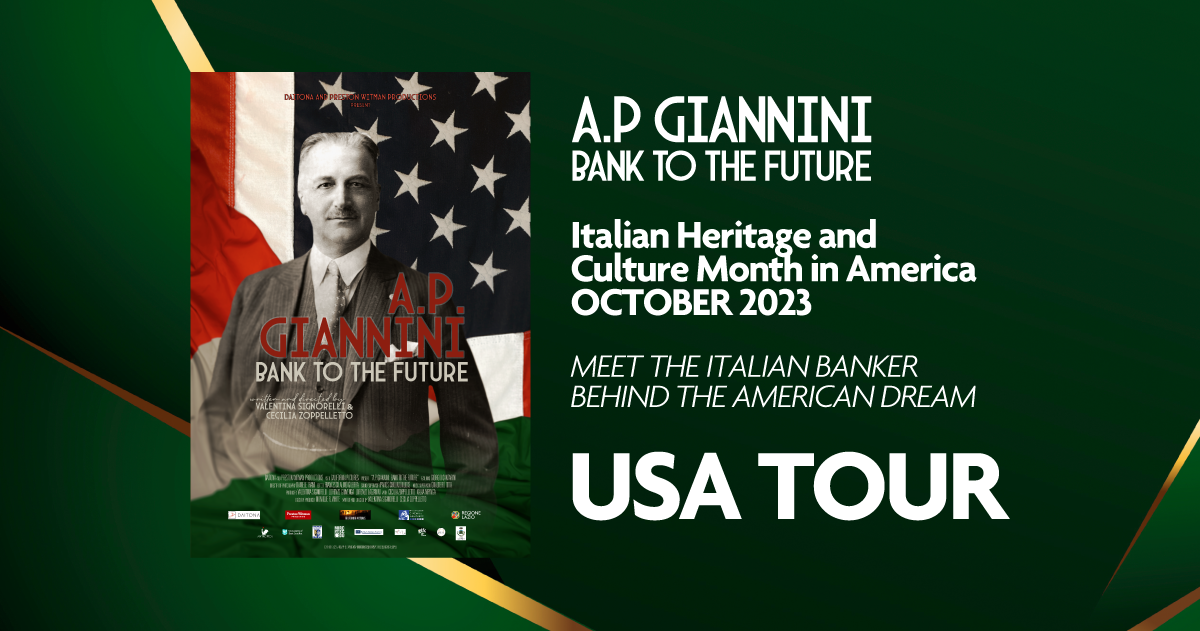 DAITONA HITS AMERICA! MEET THE ITALIAN BANKER BEHIND THE AMERICAN DREAM!
Did you know that October is Italian Heritage and Culture Month in America and Italian culture is celebrated throughout the US for four weeks?
To honor these celebrations, Daitona flew to the US to launch our latest documentary "A.P. Giannini – Bank to the Future" – the incredible true story of Amadeo Peter Giannini, the son of Italian immigrants in San Francisco and founder of Bank of America, the one who enabled millions to live the American Dream and the first to believe in and finance the Hollywood film industry!
The documentary is written and directed by Valentina Signorelli and Cecilia Zoppelletto, produced by Daitona (IT) with Preston Witman Productions (UK). World sales California Pictures.
Official Trailer:
A Cinematic Journey into the Italian Banker Behind the American Dream
The tour spanned from October 13 to 18, 2023, with six events selling out across five major U.S. cities: New York, Washington DC, Niles, San Francisco, and Berkeley.
Highlights from the tour:
New York, October 13, 2023:
Hosted by the Italian Cultural Institute on Park Avenue, the screening saw introductions by Massimo Sarti, Attaché for Cultural Affairs. Special attendees included actor Giorgio Cantarini (known for "Life is Beautiful" and "Gladiator"), who narrates the documentary, and Steven Istock, CEO of California Pictures.
Washington DC, October 14, 2023:
Screened during the 48th anniversary celebrations of the National Italian American Foundation (NIAF), distinguished guests included Fatou Assah of the World Bank and Dario Scatena, a Giannini family descendant. Notably, First Lady Dr. Jill Biden, the first Italian-American First Lady, attended the gala alongside President Joe Biden.
Niles, California, October 15, 2023:
The Niles Essanay Film Museum, dedicated to silent cinema, hosted the screening. Warren Sherk from the Academy of Motion Picture Arts and Sciences presented alongside the directors.
San Francisco, October 16, 2023:
The historic Club Fugazi in North Beach held the event in collaboration with the Italian Institute of Culture of San Francisco and the Italian Community Services. The screening was introduced by Consul Sergio Strozzi and Director Roberta Lai of IIC San Francisco. Among the attendees were restaurateurs Maurizio and Filomena Florese from the famed Mona Lisa Mari e Monti restaurant, Dr. Vincent Fausone, and agent David Nastari of the San Francisco Police Department.
San Francisco, October 18, 2023:
A private screening organized by Vornado Group was attended by representatives from Bank of America at the iconic 555 California building, centered around AP Giannini Plaza.
University of California Berkeley, October 18, 2023:
A special screening for students and faculty at Giannini Hall was organised by Prof. Daniel A. Sumner, with Dr. Ellen Bruno. Prof. David Zibelman, recipient of the 2019 Wolf Prize in Agriculture, was also present.
Photo Gallery;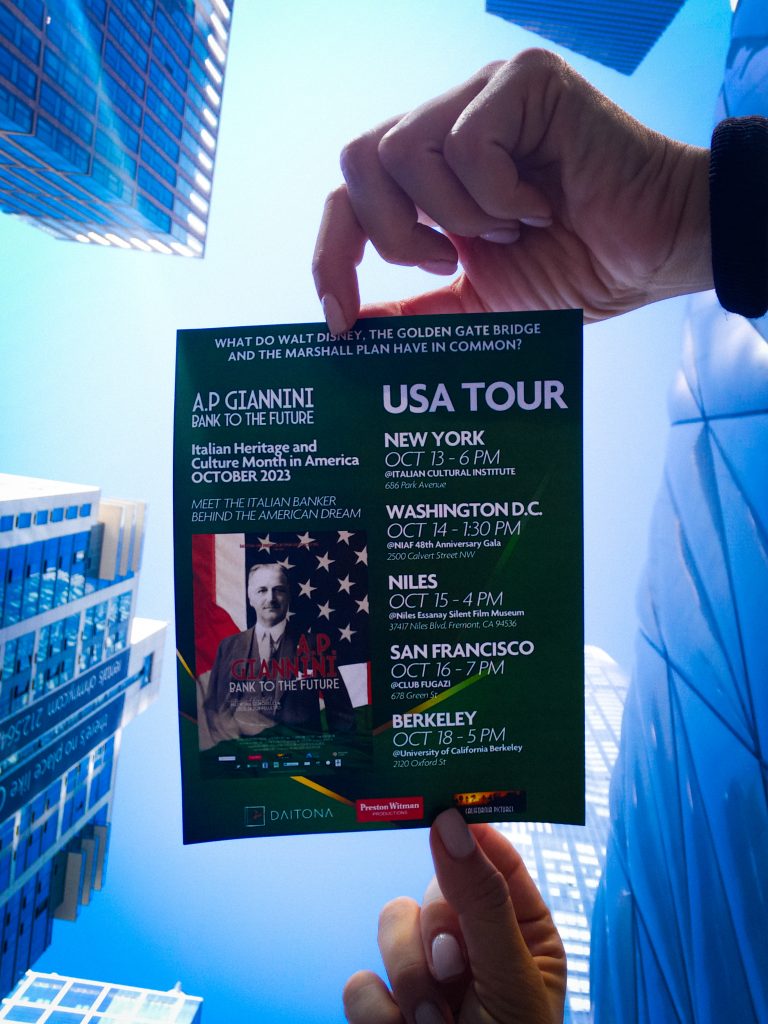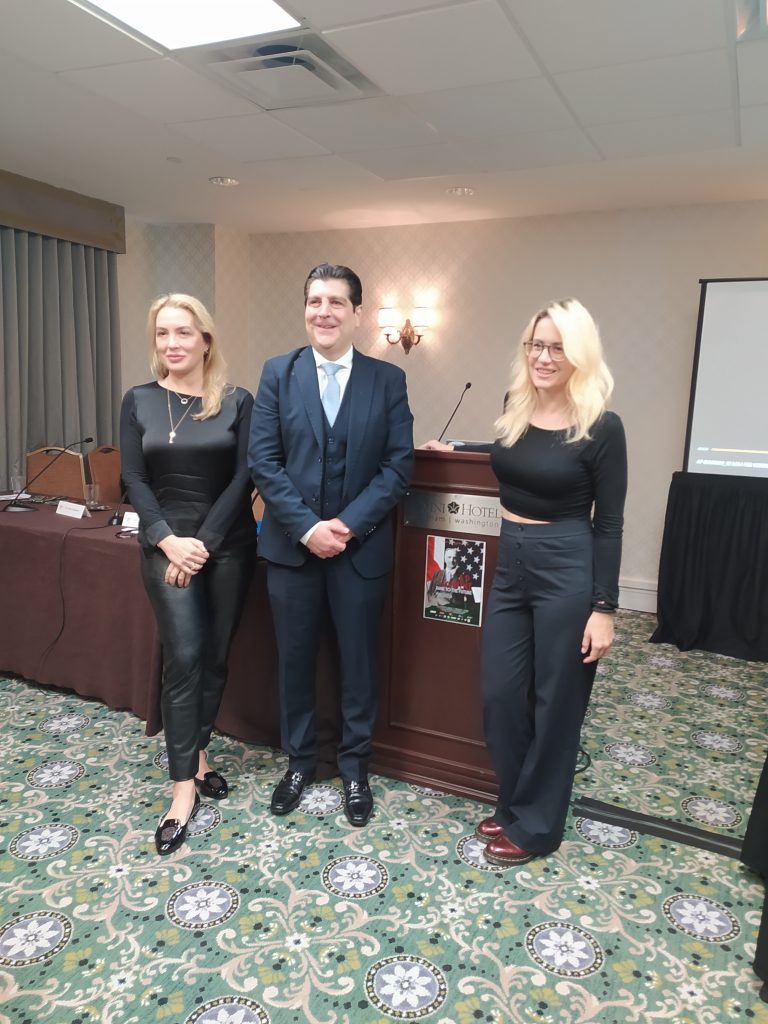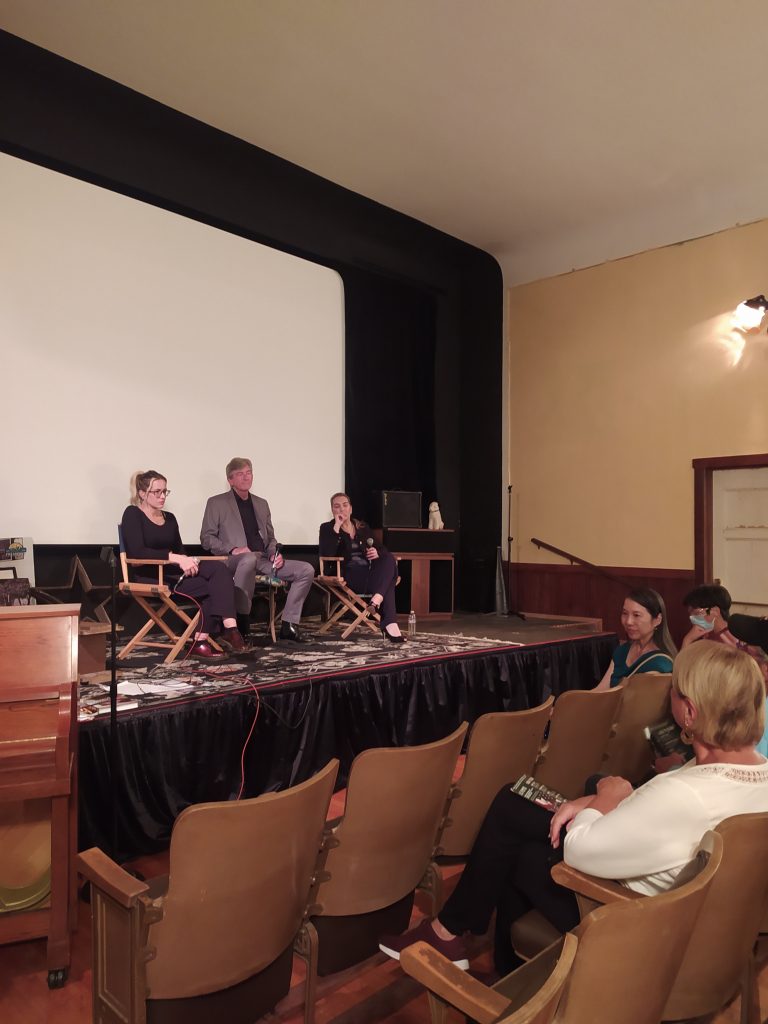 Press:
Need to contact us? info@daitona.it